Skip to product information

Suitable For
Meat Farming



Heat Tolerance
Does Not Tolerate Heat Well

Cold Tolerance
Should Be Kept Out of the Cold
Regular price
Sale price
$3.82
Unit price
per
Sale
Sold out
Money Back Guarantee

Safe & Secure Payment

All Orders Are Tax-Free

75+ Years of Experience
FAST and FREE Shipping!
Most orders ship every Tuesday and will arrive within 5 days of being placed.
View full details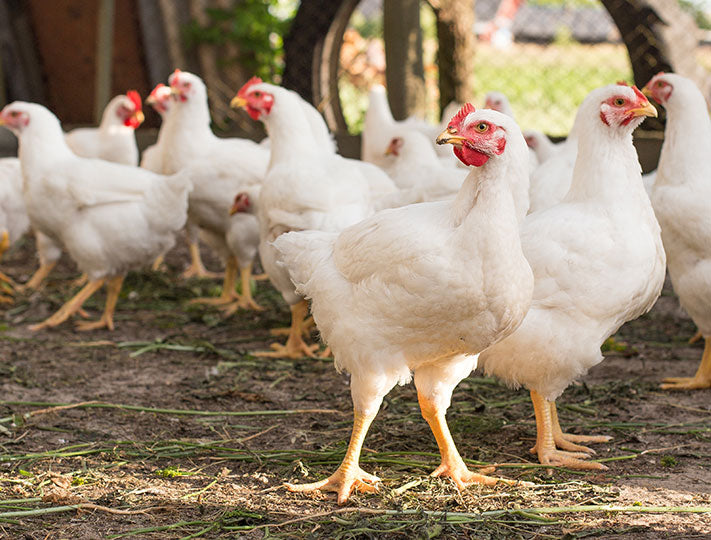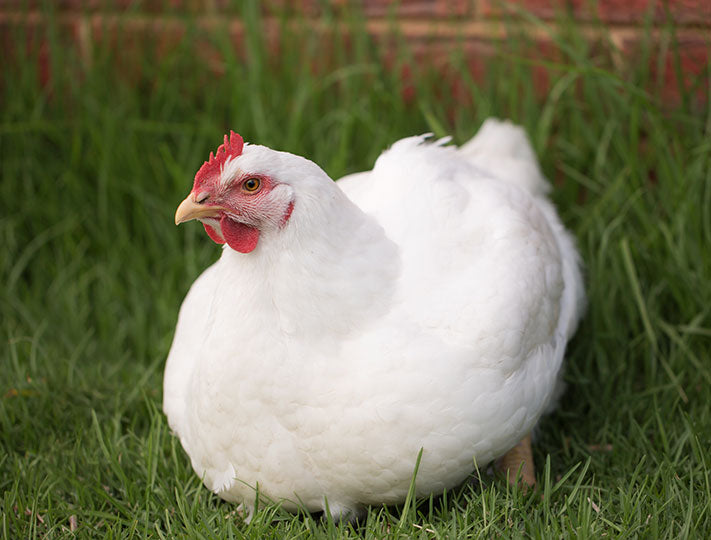 Description
One of the most remarkable meat birds we have ever seen. Some have weights of 8lbs in eight weeks. Special white Cornish males are mated with white rock females producing chicks with hybrid vigor and superb qualities of both parents. Expect broad breasts, big thighs, fast feathering, white plumage, and yellow skin. These Cornish have fantastic growth and remarkable feed efficiency.

FAQs
How many weeks should I raise them?

6 weeks for small fryers. 8 weeks is standard. No more than 10.
Do Cornish need extra care?

Yes, Cornish should have their feed rationed off and on to prevent overgrowth. They also produce more waste and need cleaned up after or moved more often. Water is consumed at a higher rate. Keeping them out of extreme heat or cold is a must. 
Are Cornish known to have heart and leg issues?

Yes, but this can be resolved by not overfeeding, exercising the birds, and giving them plenty of space.
What should I feed Cornish?

22% proven broiler starter for 3-4 weeks 19% finisher last weeks.
Key Points
Fast Growth
Great Feed Conversion
Value
Marketing Opportunity
Broad Breasted
Non Gmo
Mary Sanger
First time I was ever there. Just picking up for a neighbor. Easy to find.
Joel & Nicolette Bohannon
We have ordered our Cornish X chicks from Reich's for years and couldn't be happier. Every now and then we try another hatchery out and always come back to Reich's! The chicks arrive healthy and grow to 6+ pounds in 8 weeks. We rarely lose any except to our own fault. We also spend extra and buy the cockerels verses the straight run (I love my meat birds FAT for our family of 7). Very happy with the ratio of males to females as we normally wind up with about 85-90% males. We buy feed from Ernst Feed in Maryland for non-GMO, sustainably grown grain and average cost for the dressed birds is $12 EACH with an average weight of 6 pounds. Outstanding breeding line for our meat bird needs! As a side note, my in-laws also have ordered from Reich's for years with the same success, refusing to order from anywhere else! They also order their white Turkeys from here and have never had sickly ones, growing them to well over 20 pounds in 16 weeks.
Tim Gutierrez
Extremely pleased with my experience ordering Cornish Cross chicks from Reich's. Customer experience was excellent, and the staff was very friendly. All my chicks arrived on time and healthy. Prices were fair as well. I will be buying from Reich's again soon.