Skip to product information

Suitable For
Meat Farming



Heat Tolerance
Tolerates Heat Well

Cold Tolerance
Hardy in Winter
Regular price
Sale price
$8.00
Unit price
per
Sale
Sold out
Money Back Guarantee

Safe & Secure Payment

All Orders Are Tax-Free

75+ Years of Experience
FAST and FREE Shipping!
Most orders ship every Monday and will arrive within 5 days of being placed.
View full details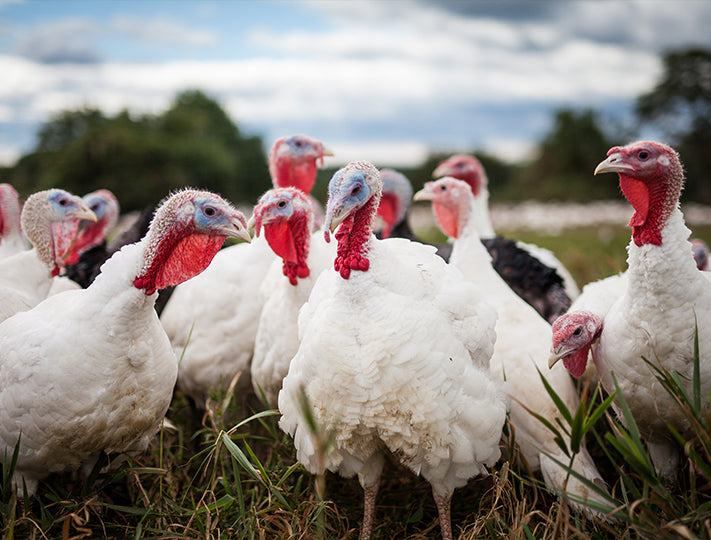 Description
For those of you looking to raise and sell turkeys this one is for you. The white feathers make for a beautiful bird with unblemished skin. This robust turkey will grow great indoors or outside. The breast size on these birds is outstanding. Excellent feed conversion. Highly disease resistant. No better meat turkey anywhere. Fun to watch strutting their white plumage around your farm.

Faq's
How do I start turkeys?

Start turkeys using an infra-red heat lamp or adequate brooder. Keep corners of brooder rounded with no 90 degrees to avoid piling in corners. Maintain 90 to 95 degrees for the first week. Reduce the temperature 5 degrees each week until 70 to 75 degrees is reached. Keep dry on a non-slip surface feeding a high protein wild game starter for the first six to eight weeks.
Do you sell turkeys year-round?

No, they are seasonal. April Through August.
What is the minimum order of turkeys?

5 Turkeys is the minimum order preferably in warm weather.
What days of the week do turkeys ship?
What if turkeys are lost during shipment?

Anything lost in shipment is refunded or replaced.
Key Points
Economical
Large Double Breasted
Clean Blemish Free Skin
Non Gmo
Lea
We have been buying chickens and turkeys from Reich's for about 10 years. We only had problems with chickens one time and Reich's replaced them free of charge. Otherwise our chickens and turkeys were great! Our Thanksgiving turkey dressed out at 48.8 lbs.!!! We had to roast it in the oven of the restaurant down the street from us!! Lucky for us the restaurant owners were our dear friends! Buy your poultry here.
Lincoln Hokenbrough
We picked up our 15 turkey chicks that we ordered, and they put in an extra one for us. When I was getting to leave, they asked if I wanted any meat chicks. A customer ordered 200 chicks, but decided they didn't want the order, thus sticking Reich's with 200 chicks. Normally, they take them to the auction, but since the auction is closed right now, they couldn't do that, and unfortunately, they'd have to slaughtered. We ended up taking all 200 chicks and have passed on almost half of them to other families. Thanks Reich's!
Red Gate Farm
I bought chicken and turkey peeps from Reich hatchery for many years. Low mortality rate of peeps. Timely shipping and good growth rate. I recommend them to friends and will continue to do business with them, 15 birds at a time.
A farmer near me orders over 1000 turkey poults or 500 chicks at a time and has done so for years. He says they have the best price and service he 's found.